Of all the social media platforms out there–from Snapchat to Facebook–probably the best one for live cam chats is Twitter: sending out Tweets to your fanbase through Twitter is fun, fast, and is perfect to direct traffic to your camsite!
But you can't just sign up and suddenly become the perfect Tweeter. So here's a quick guide to the tips and tricks you'll need take full advantage of Twitter–and, best of all, boost your audience!
Tweet Simply: Simplicity is key for your Tweets you guys! Keep them short and sweet!
#Hashtags are what you are going to use to identify you. This will help your target cam girl audience find you more easily. You can even come up with your own hashtag that you can use to capitalize you.
Tweet Frequently: It is best to tweet about 4-5 times a day. Remember you can always re-tweet your best tweets. Keep track of your tweet engagements to find out when your tweets are being seen, so you can post at the best times for you! Keep your tweets interesting, and your online cam girl audience engaged and play re-tweet games and use polls. Your personality is your best marketing tool!
Not Just Words: Aside from just tweeting you can use clip sites to sell clips and pictures to make additional money on the side. YOUR OPPORTUNITIES ARE ENDLESS ON HERE. Really you guys have so many tools you can use, have fun with it, and put your cam link everywhere!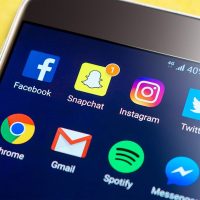 Become A Cam Girl Superstar on Instagram, Snapchat, and Twitter
There are a couple platforms I would use off the top. Learn how to use these sites to your advantage for camming.
When someone DMs you (direct message) it is their mission in life to try and get personal with you and attempt to make an online connection. This is a constant push-pull battle of wills. It is up to you to charge for your time—or other people will waste it. This can be more of a distraction than an advantage if you let it. So stay focused on live cam show money. IT IS YOUR JOB to find fans who are serious about spending money on you.
Remember: use Twitter as a tool for business. It's very easy to get distracted, which ultimately means you earn less! The goal here to create desire—and always leave your fans wanting more! The cam identity that you create on social media is for business purposes.
Header image:  howtostartablogonline.net