Yes, absolutely, your followers are there to see you but—as I discussed in my articles on scientific makeup techniques—I am here to share with you the ways you can use my definitive expertise to make you the best cam girl you can be.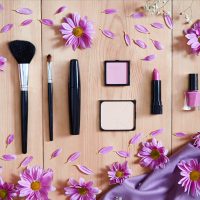 Camgirl Make-Up Tricks and Tips #1: Make Your Face Glow!
There is a right and a wrong way to do your makeup and I'm here to give you the tools that you can use to drive more traffic to your room!
And naturally part of that is having the perfect wardrobe handy: so here are the some of the best camming clothes that are a must for your closet.
Sexy lingerie. Getting naked is up to you but if you do decide to be an erotic camgirl that doesn't mean you shouldn't have some lovely lingerie to wear. What kind is up to you but always keep in mind that it should not just match but also suit your webcam model persona. If you are the girl-next-door webcam model then go with clean but nice everyday bras and panties, maybe a skimpy athletic shorts and a sexy cami or a ropped t-shirt that shows off your curves. Fun or sporty knee high socks (over the knee socks can be super sexy, too) can also add spice to that innocent look!
If, however, you are going for a more elegant look then you should start with some simple satins, lace and silks to compliment your perfect persona. Victoria's Secret is a great start, but if you want to go really high end, Agent Provocateur or Bordelle (this sensuous luxury brand has some harder to find, more kinky looks, too) will make you feel like a million bucks! Remember, you don't have to start with the most expensive lingerie, but splurging for an amazing luxury set from time to time can add the extra sparkle to your appearance and attitude that can help you rake in that webcam money.
Shoes, shoes, shoes. Lots of guys are really into shoes and feet so here's a perfect opportunity to reach them. As an expert, I know the power of a good shoe so, like with your lingerie, spend some time to find the perfect shoes for your cam wardrobe self. Sure, they can be pricey but if you are a refined woman it wouldn't do for you to be there in some cheap knock-offs. Also be sure to practice showing off your nice shoes, trying the most effective poses that work best on your camera and overall look that will be a natural compliment to your features. A peekaboo toes high heel pair can make those feet fetish guys lose their minds!
A nice dress. Again, this depends on what kind of webcam model you want to be. Think always about what your persona would be wearing–though a simple tight black dress is the stuff of erotic dreams for many men!
Fun props. It's not exactly clothes but you should also think about other ways to accessorize your online camgirl identity self. If you're elegant then have a nice purse handy. If you're a goth then have a stuffed animal—like a bat or a spider—on your bed. If you're a girl-next-door then have another kind of stuffed animal—anything but a bat or spider. Get what I'm saying? Not only do these add to your character but they can be fun to play with—which can add even more to your camroom's overall appeal—which means big webcam money! Just make sure you don't make your camming space too cluttered—it's better to have a few larger props for better visibility on a phone or computer screen, than a lot of small ones.
Never forget that you are a fantasy: the perfect woman to all these lonely men. They are in your camroom because they are drawn to your womanly essence.
Camming in the best clothes for the job is just another piece in the puzzle to your overall cam success.