There are a lot of things you need to think about when you enter the adventure, and independence, of having a cam girl job. One of the biggest is if you want to be nude in front of the camera or not!
But that's why I'm here: your camgirl expert-of-experts to share with you all my wisdom and experience to help guide you to your camming success!
Nude means dollars—sort of. Let's face it; you being naked on camera is what a lot of lonely guys want to see. But here's the thing, if you strip on your first show then there's really no reason for them to keep coming back. Sure, you can work on your persona and do what they want–if they pay–in private chat but a lot of your mystique and allure will be gone. That's why even if you choose to be naked in front of the camera it's so much better to tease and stretch it out than just taking everything off the first day.
You can still be wildly erotic but do your cam girl job without getting naked!
Lingerie can be as good as being nude. The right piece of sexy clothing can be just as good, if not better than just stripping! After all, lingerie is designed to enhance what you already have—as well as give your audience that all-important tease of what lies underneath! Always remember that you are a fantasy, a goddess, and what can make you an even more powerful one is being a seductive mystery!
Also, Check "How to Become a Cam Girl"
Sexy doesn't mean nude. It may sound odd but trust me in all things camming that you can still be wildly erotic but do your cam girl job without getting naked! Don't forget that's what I specialize in: teaching you here and in my advanced CamAcademyTv training videos on how to be sexy but with most of your clothes on.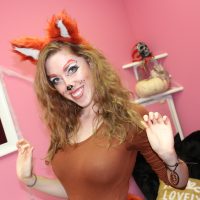 Let's Play Dress-Up: Camgirls and Costumes
Sometimes you need to change things, shake stuff up: and that's where costumes can come in. Cam girl jobs are a great opportunity to play dress-up!
More than anything being a webcam model is knowing what drives men's desires—and how to use this knowledge for your profit!
Lucky for you, I'm here to guide you through all things camming to put you on the path to camgirl fame and most of all fortune!