As a webcam model you're a sexy dream-come-true for your male audience: you are the perfect girlfriend, lover, goddess … whatever they want—for a price! But for sometimes you need to change things, shake stuff up: and that's where costumes can come in. Cam girl jobs are a great opportunity to play dress-up!
Lucky for you, I'm here to tell you all about that and more: your expert on all things related to webcam jobs with the history, and the income, to back it up!
Keep things interesting. I've already talked about the essential clothing items to have on hand but you can't fall back on the same-old thing each and every time you cam! Instead, have some unusual items as well: they can be anything from a different colored bra, to a unique set of panties. Yes, you can do a cam girl job without getting naked , but you have to use your imagination. After all, you want to keep your followers not just aroused but also intrigued!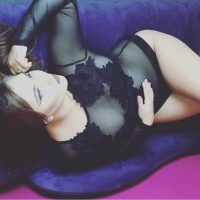 Camgirl 101: The Best Camming Clothes
Dress for success... and lots of webcam money! What is the basic clothing and accessories you'll need to get started as a webcam model.
It's a balancing act. You really shouldn't mix it up too much, though: otherwise your followers might get distracted with all the outfit changes that you are doing instead of actually looking forward to a change of outfit. So don't totally change each and every time you cam but instead just put on new things for special occasions.
Holidays and seasons. The holidays are a perfect opportunity to put on your New Years-themed lingerie or your sexy Halloween costume! Not only will you be playfully festive—and best of all sexy—but it will give your followers something to look forward to!
So trust me, your camgirl expert: while you need a good basic set of clothing to wear for your shows, always keep an eye out for opportunities and outfits to wear that will make you and your cam shows bright and festive—and sexy!
After all, sexy equals extra income for cam girl — everyone likes keeping things different and interesting!