Welcome back, it's your camgirl expert here! I wrote about applying my scientifically developed makeup techniques and told you how to create your perfect camgirl persona—and now I'm going to share the key things you should be doing just before you step in front of your camera!
Visualize. I want you to picture yourself in your webcam room looking at your computer. Imagine yourself as the perfect camgirl. Now examine that picture in as much detail as possible. Close your eyes and imagine how confident you will feel. Fill your mind with positivity and let go of all doubt: this is going to be you—and you are going to be the best camgirl you can be. Think of all the men who will be coming to your room, how they will laugh at your jokes, glow when receiving your attention, smile at your playful attitude, and become absolutely addicted to your personality! Put yourself into this feeling state before you cam and you will have members clamoring to get into private chat with you. Make this your ritual each and every time you get ready to cam: this visualization will help you to build up your confidence—and a confident camgirl is a money-making camgirl.
Becoming A Camgirl: Confidence Is Success!
There are all kinds of things that can help you put on a great cam show… but one of the biggest is stepping in front of your camera with confidence!
Run a Systems Check. Nothing is worse than having a technical issue during a camming session: your camera not set up right, your microphone getting disconnected, your props not being available, your water bottle falling over … the list is just about endless! The best strategy is to be proactive by taking the time to look over everything in your space and especially your electronics to make sure it's all running smooth. Make sure your props are clean and handy, your bed is cleared and not disorganized and keep liquids away from electronics. Check your camera and microphone, be sure that your lights are in their right positions. More you do this, more you'll be able to relax when you start to cam—which is an essential part of being that perfect and confident webcam model you visualized!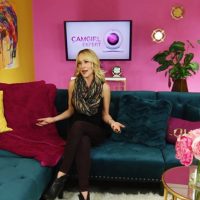 S1 Ep3: Camgirl 101
If you see only one video about camming, make it this one! Brooklyn Baines hits all the most important points of being a successful webcam model, from start to fini$h.
Listen to me – I am the expert of experts when it come to camming: do these important steps when you first step into your webcam space and you'll be bubbling over with confidence and that beautiful playful webcam girl energy—instead of being anxious, nervous, or scattered. Never forget that this isn't a hobby but a serious job: so listen carefully to my expertise from experience and get in front of your camera to become the perfect camgirl your envisioned in your mind—and before you know it tons of money will be coming your way!