Direct Messages on social media are a kind of a gray area: essentially they are communicating with members off-site, which is only advisable in specific instances. The main use of Direct Messages should always be to draw people into your room.
Many members make it their mission to get you off of your camming site and onto social media and where they can try to establish a personal connection in order to avoid having to pay you money for your time—but it is your job to not let that happen. The only reason why you should be using social media is to direct traffic to your cam room from social media.
Like with learning how to pull members from free chat into private, camgirls never want to give anyone anything for free that they should be paying for. So don't use Direct Messages for anything but ways to get them coming into your chat room—and then into private!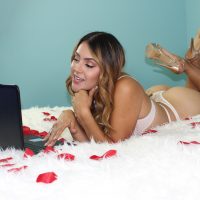 Camgirl 101: Get Them To Go Private
Here is a great guide on how to get your audience members out of free chat into private and keep them there as long as possible.
Build up your social media profiles and direct your followers to your camsite where everything is safe, virtual and legal. Otherwise you could get yourself into trouble!
This is very important: keep your private life private and your public webcam modeling life public—and never mix the two! Do not post any pictures on any social media platform until you turn your location settings OFF and your privacy settings ON! Security and safety are just as crucial as making money!
I know this is a lot to learn but that's what I'm here for: through my expertise I will tell you whatever you want to know about everything from setting up your studio to learning how to pull members from free chat into private—along with how to use Social Media Direct Messages to pull traffic to your camroom … where the money is!