Being a camgirl is all about making money—big surprise right? Well, you'd be shocked to learn that there are some girls who don't take my expert camming advice and then are surprised when they aren't a success at it!
But, luckily, I am here for you with my proven skills and techniques that, if you follow what I have to say, will have you too on the fast-track to pulling in some serious webcam model dollars.
One of the best ways to do this is persuading guys to go into private chat. So here is a great guide on how to get your audience members out of free chat into private and keep them there as long as possible.
Start at the beginning. It's crucial to direct what's happening when you're in front of the camera—so you should begin your webcam show thinking of ways to get guys into a private chat. This is the most important part of what we do, so you have to pay attention to my advice and learn how to do it well. Remember: private chat is where the money is—so always be working to get as many people to do that as possible!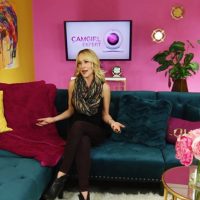 S1 Ep3: Camgirl 101
If you see only one video about camming, make it this one! Brooklyn Baines hits all the most important points of being a successful webcam model, from start to fini$h.
First find Out What They Want. Before even attempting to ask a member if they want to go private, it is absolutely essential to find out what they like to do. You'll want to greet every member as they come in and start talking to them one at a time as best you can. After you find out their wants and desires then ask them to go private. The goal here is to create a connection by being interested in what they like to do. Doing this well will get them to go private every time!
Don't waste your time. You should know within 3 to 5 lines if someone is going to go private with you. If you know someone is not going to go private, then that is when you begin to ignore them. This teaches them that if they want your attention they are going to have to pay for it! You can always say "I love chatting too, but if you want to chat more let's go private so I can focus all my attention on you and we can get to know each other better." Those who really want to get to know you will pay!
Be a girl who wants to make money. There are two kinds of girls: the ones that give pillow talk for free and the ones who understand that this is a business and want to make money! It's important to know which road you're on–because these are very different from each other. If you don't have strategies to guide members into private shows then you're going to get frustrated. Remember: either you're guiding them or they're guiding you! The strategies that I've developed will keep you in the driver's seat and in control.
More than anything always be serious about learning more ways to make money as a camgirl! I'm here as your proven expert with all kinds of ways to show you how to be the best webcam girl you can be!
So put your sexy face on, fill yourself with confidence, and take control of your room and, best of all, get those men to go private—and watch those great camming dollars come flying in!